Calender of Exhibitions
Please use our german site for further informations.
Programme Preview 2019/2020
Ludwig Richter
A World in Harmony with Itself
20.10.2019 - 19.01.2020
Well into the second half of the 20th century whole generations grew up with the illustrations of Adrian Ludwig Richter (1803-1884) as they leaved through the artist's popular albums accompanying German fairy tales and sagas as viewed through the illustrator's eyes. Hardly any other German artist is as representative of the idyll species as Richter when it comes to transmitting touches of romanticism to everyday rural and provincial life reflecting such virtues as faith, love and hope.
Before studying, Richter set out on a career sketching views. In 1823 he travelled to Italy where, up to 1826, he formed close links with circles devoted to Romanticism. Way into the 1830s he occupied himself with the motifs he found there in addition to landscapes of his own native homeland. It soon became evident that he was to achieve far greater success in another area as an illustrator. In this field Richter was productive of an immense output while also awakening the art of wood engraving in Germany to new life, the same applying to children's literature. Employing what were inexhaustible powers of imagination, he set about illustrating fairy tales, sagas and the works of celebrated German poets. Already in his lifetime Ludwig Richter was hailed as a national monumental figure.
The exhibition of the artist's works at the Georg Schäfer Museum in collaboration with the Otto Schäfer Museum, Schweinfurt, focuses on Richter's pictorial world as viewed from present-day perspectives while raising questions pertaining to topicality as, for example, as to whether the content of his works is still generally thought to reflect today's image of an ideal world. Richter created his own distinctive visual realms which, according to one hypothesis, served both as a reaction to, and as a means of shaping the day and age in which they materialised. Justifiably, they may still continue to do so. After all, they were eventually to have an impact on Walt Disney and others.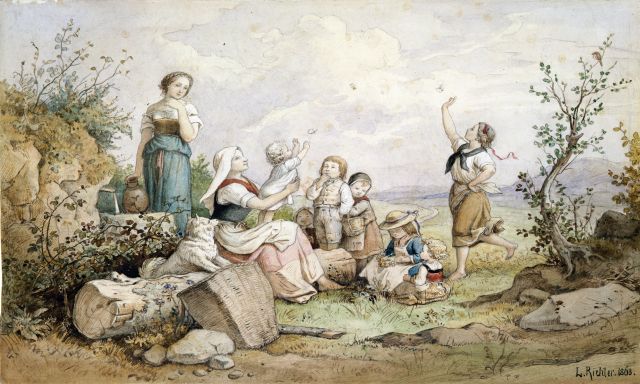 Ludwig Richter: Woman with children at the wellspring, 1868, Georg Schäfer Museum, Schweinfurt
© Georg Schäfer Museum, Schweinfurt
Talent has no Sex
Paintresses and Painters of the Romantic Age at Eye Level
16.02.2020 - 10.05.2020
Writing in 1834, the British art-critic Anna Jameson, urged German female artists to adopt a new approach expressing a "feminine way of thinking" and distinctive touch in their works as a means of demonstrating their own specific potential. Beginning at the age of Raffael, she classified their works in the long history of pictorial art – a statement which at that time was taken just as little for granted as indeed the passing of judgement by a female in matters relating to art.
The exhibition is devoted to the works of twelve women painters representing the Romantic Era juxtaposed with those of their male peers. Subjected to critical examination are corresponding role assignments and demands. This sophisticated presentation comprises some 80 paintings and drawings.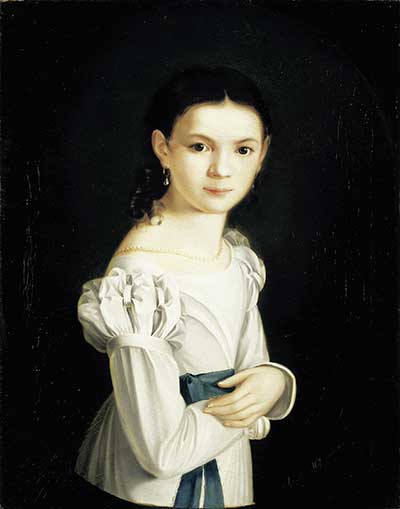 Maria Angelika Weiss: Portrait of a Girl, 1826, oil on canvas, 62.5 x 49.5 cm, Georg Schäfer Museum, Schweinfurt
© Georg Schäfer Museum, Schweinfurt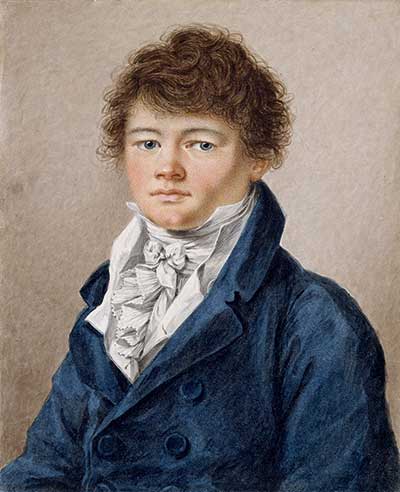 Caroline Bardua: Arthur Schopenhauer as a Youth, 1806/07, watercolour, 22.3 x 18 cm, Georg Schäfer Museum, Schweinfurt
© Georg Schäfer Museum, Schweinfurt
Esthetic Places
Idylls by Traugott Faber (1786-1863) - Scenes in Thuringia and Saxony
21.06. - 30.08.2020
In the course of several journeys undertaken between 1821 and 1842, the Dresden-born artist Traugott Faber painted views of building structures in Thuringia and Saxony. His watercolours depict rural out-of-the-way places viewed from romantic perspectives, a number of which can still be discovered even today. These include tucked-away manor houses, mills, summer houses and mediaeval churches or castles doomed to decay. The extensive stock of over 80 works reflects Faber's esthetic selection criteria. His works are juxtaposed with modern photos of the scenes he originally captured. These "lost places" evoke their own special charm and atmosphere.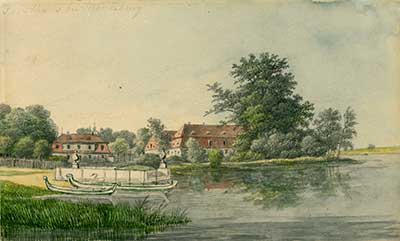 Traugott Faber: forest house atMoritzburg, 1844, watercolour
© Museum Georg Schäfer, Schweinfurt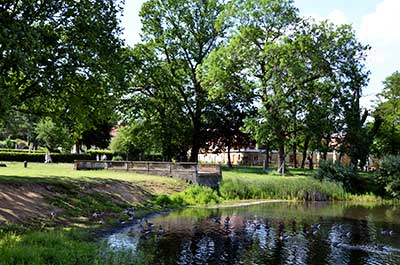 For comparison: forest house at, 2019, photography
© Museum Georg Schäfer, Schweinfurt
Karl Hagemeister
"Ever-changing light"
German impressionism in landscape painting
18.10.2020 - 21.02.2021
Born in Werder on the River Havel, Karl Hagemeister (1848-1933) ranks among the most prominent representatives of German impressionism and was a pioneer of modern landscape painting.
After studying in Weimar, forming temporary links with the group around Wilhelm Leibl known as the "Leibl Circle" and influenced by contemporary French art, he settled in the picturesque Havel Lake District close to Potsdam in 1884, remaining deeply attached to the Brandenburg countryside all his life from which he drew upon his motifs. While still maintaining links with the Berlin art scene around Max Liebermann and remaining enrolled as a founder-member of the Berlin Secession, Hagemeister nevertheless preferred to work in solitude and seclusion.
He likewise went his own way to create an individual style of landscape. Quite early in life he had discovered nature as a living organism and set out to capture the scenic beauty of its subtle changes and movements, developing an increasingly free style distinguished by rhythmic and intensely colourful accents. Dynamism and expressivity gained increasing importance in his late works in which wave and coastal formations play a prominent role.
The exhibition – comprising roughly 100 paintings, pastels and drawings – covers all of the artist's different creative periods in addition to singling out central influences. The exhibits have been culled from major Hagemeister collections, in particular those from Potsdam and Berlin. A number of privately owned works are to be put on public display for the very first time.
The Potsdam Museum – Forum for Art and History in collaboration with the Georg Schäfer Museum, Schweinfurt and the Ahrenshoop Museum of Art.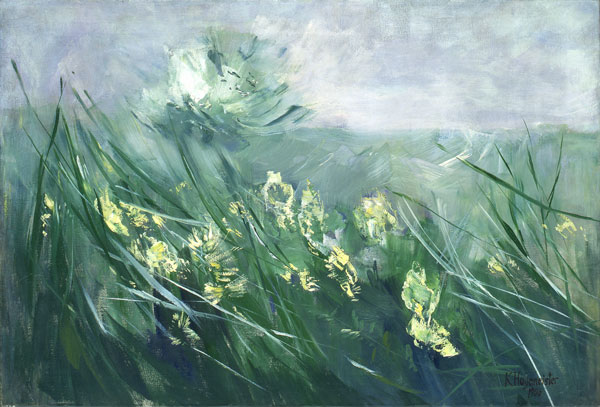 Karl Hagemeister: Meadowland, 1906, oil on canvas, 71 x 111 cm, Potsdam Museum – Forum for Art and History
© Potsdam Museum – Forum for Art and History