Calender of Exhibitions
Please use our german site for further informations.
Programme Preview 2019/2020
Josef Wopfner
Landscapes – Between Idyllic Nature and Drama
26.05. - 01.09.2019
Born in Tyrol in 1843, Josef Wopfner moved to Munich in the 1860s. Starting out as a decorative painter and lithographer, he accessed to the Munich Academy as a student in 1864. Shortly after completing his training he discovered the lakes and the surrounds of southern Germany as well as the people who lived there. While confining himself to his Munich studio during the winter months, he utilised the remainder of the year for embarking on extensive study trips. In a series of idyllic and equally dramatic compositions he devoted himself to reproducing these motifs right up to his death in 1927. His landscapes are never an end in themselves. On the contrary, they are designed as a framework for timeless discourse or co-existence between mankind and nature. In addition to a display of Wopfner's paintings, the exhibition features a large number of drawings and sketchbooks from the artist's estate. Some 70 works provide an insight into how they came to be created as well as the way in which the artist worked.
Selected contributions provided on by private owners serve to enrich the display for which the first exhibition catalogue focusing on Wopfner is presented.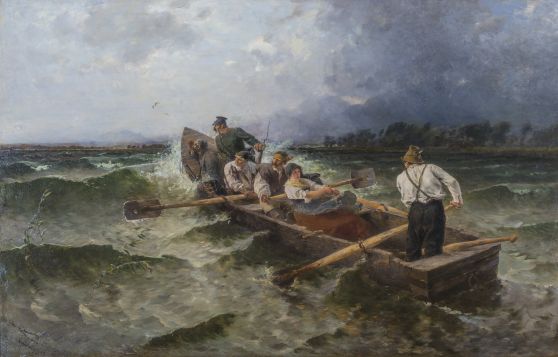 Josef Wopfner: In pursuit of poachers on Lake Chiemsee, 1884, oil on canvas, 117 x 183.5 cm, Georg Schäfer Museum, Schweinfurt
© Georg Schäfer Museum, Schweinfurt
Henri de Toulouse-Lautrec
Life on Parisian Stages (1891-1899)
30.06. - 29.09.2019
Henri de Toulouse-Lautrec was familiar with all the stars of the Paris revues, cabarets and theatres. The belle époque nightlife in the entertainment world of Montmartre attracted bohemian lifestylists just as much as the bourgeoisie, not to mention the many tourists frequenting the area. In 1891 he began to design posters for the various events. These turned out to be so fascinating that they soon became highly coveted collectors' items, above all by art lovers. The entire poster collection is featured in this exhibition.
Together with his colleague Jules Chéret, Theóphile-Alexandre Steinlen and the Czech artist Alfons Mucha, who had been living in France since 1889, Toulouse-Lautrec developed his own personal style – a mixture of impressionism, Japonism and art nouveau – resorting to colour printing or chromolithography as a PR medium. What emerged was a pictorial world of its very own, spotlighting the appearances of far-famed actors such as Aristide Bruant, the celebrated veil dancer Loie Fuller, Jane Avril – employed as a dancer at the Moulin Rouge – and the widely travelled vocalist Yvette Guilbert. Adding a sparkling touch of joie de vivre to their illustrations, the three artists began to apply the forms of presentation to other subjects as well and very soon succeeded in bringing the whole of Europe under their sway.
In addition to over 70 major works, the Georg Schäfer Museum presents biographical and historic material (film material) from the unique collection housed at the Musée d'Ixelles in Brussels.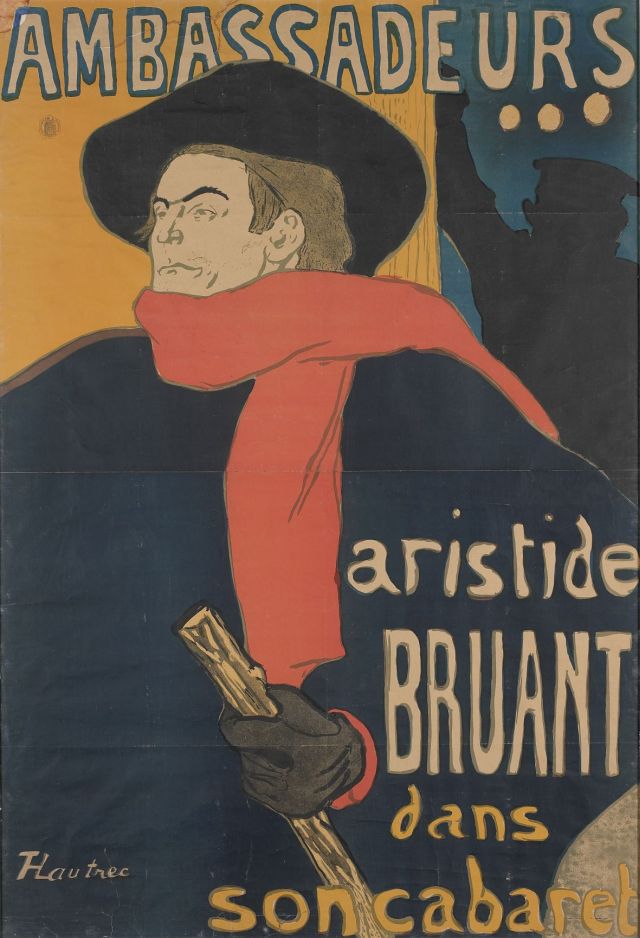 Henri de Toulouse-Lautrec: Ambassadors – Aristide Bruant (detail), 1892,
Musèe d'Ixelles, Brussels
© Musèe d'Ixelles-Brussels/By courtesy of the Institute of Cultural Exchange, Tübingen 2019
Ludwig Richter
A World in Harmony with Itself
20.10.2019 - 19.01.2020
Well into the second half of the 20th century whole generations grew up with the illustrations of Adrian Ludwig Richter (1803-1884) as they leaved through the artist's popular albums accompanying German fairy tales and sagas as viewed through the illustrator's eyes. Hardly any other German artist is as representative of the idyll species as Richter when it comes to transmitting touches of romanticism to everyday rural and provincial life reflecting such virtues as faith, love and hope.
Before studying, Richter set out on a career sketching views. In 1823 he travelled to Italy where, up to 1826, he formed close links with circles devoted to Romanticism. Way into the 1830s he occupied himself with the motifs he found there in addition to landscapes of his own native homeland. It soon became evident that he was to achieve far greater success in another area as an illustrator. In this field Richter was productive of an immense output while also awakening the art of wood engraving in Germany to new life, the same applying to children's literature. Employing what were inexhaustible powers of imagination, he set about illustrating fairy tales, sagas and the works of celebrated German poets. Already in his lifetime Ludwig Richter was hailed as a national monumental figure.
The exhibition of the artist's works at the Georg Schäfer Museum in collaboration with the Otto Schäfer Museum, Schweinfurt, focuses on Richter's pictorial world as viewed from present-day perspectives while raising questions pertaining to topicality as, for example, as to whether the content of his works is still generally thought to reflect today's image of an ideal world. Richter created his own distinctive visual realms which, according to one hypothesis, served both as a reaction to, and as a means of shaping the day and age in which they materialised. Justifiably, they may still continue to do so. After all, they were eventually to have an impact on Walt Disney and others.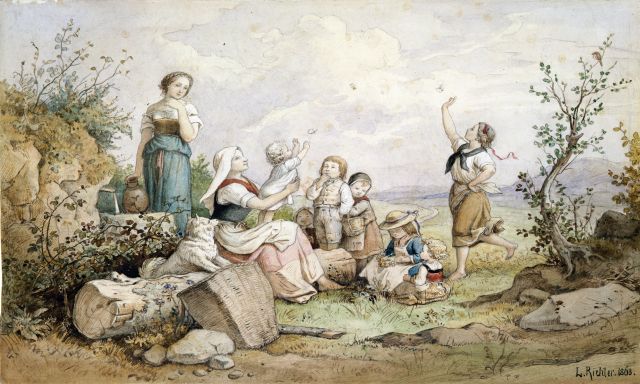 Ludwig Richter: Woman with children at the wellspring, 1868, Georg Schäfer Museum, Schweinfurt
© Georg Schäfer Museum, Schweinfurt